Design and screen
Garmin has started exploring more fashionably-aware sports watches, particularly with its most recent smartwatch, but the 945 sticks to a more Garmin-traditional, rugged design. It only comes in one case size (47 x 47 x 13.7mm) and two colors (black with a black strap, or black with a blue strap).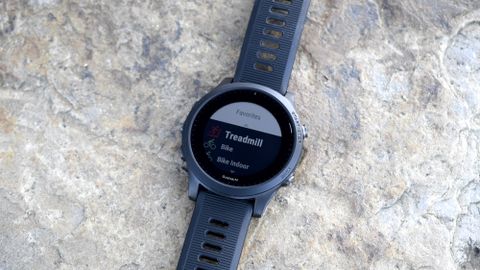 It's certainly not as huge as the Fenix 6X, but it's still… a little hulking, large and likely to alienate a lot of the female market. Patek Philippe probably wasn't consulted on this one, but it's perfectly functional for its duties.
You've got five buttons around the screen, three on the left and two on the right, all necessary for navigating the UI and each giving a satisfying click. There's no touchscreen here, and having spent too much time dragging sweaty fingers across them on other watches, we're fine with Garmin's decision to ditch the touchscreen altogether. Sometimes, buttons are just better. Buy the Garmin Forerunner 945 Tri Bundle GPS SmartwatchBest price online from CELLULAR KENYA,Nairobi
The 945 comes with a silicone band which fastens securely but can be annoying to take off and put on. When it's on, however, it's not going anywhere.
The heart rate monitor on the underside of the watch protrudes ever so slightly to give it better contact with the skin.
And at 50g the Forerunner 945 is light enough, and overall not uncomfortable to wear. There's sleep tracking on offer, so you could wear it to bed, but while we're used to wearing watches when we sleep, we find the 945 a little too big.
The upside of the uninspiring rugged design is that this watch feels capable of withstanding anything you throw at it. It's water rated to 5ATM, and we've taken it swimming multiple times and had no issues.