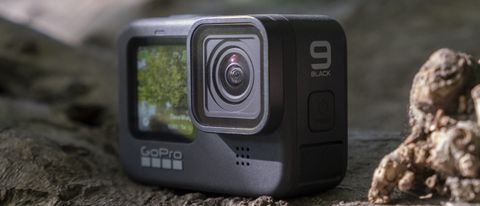 New 1.4-inch color display on the front is useful for vloggers
Redesigned body is around 10% bigger and heavier than Hero 8 Black
Larger rear display isn't as responsive as previous GoPros
The Hero 9 Black is the biggest redesign of GoPro's flagship action camera since the Hero 5 Black, and the results are mostly positive (with a few caveats).
There are three big physical changes from the Hero 8 Black: a new 1.4-inch color display on the front, a beefier body (to house its bigger battery), and a larger rear 2.27-inch rear touchscreen.
Collectively, these new features feel like a response to the DJI Osmo Action, a fresh-faced rival that in some ways made GoPro action cameras feel a little dated. In some ways, the Hero 9 Black still does, and that's partly because the new features all come with slight downsides.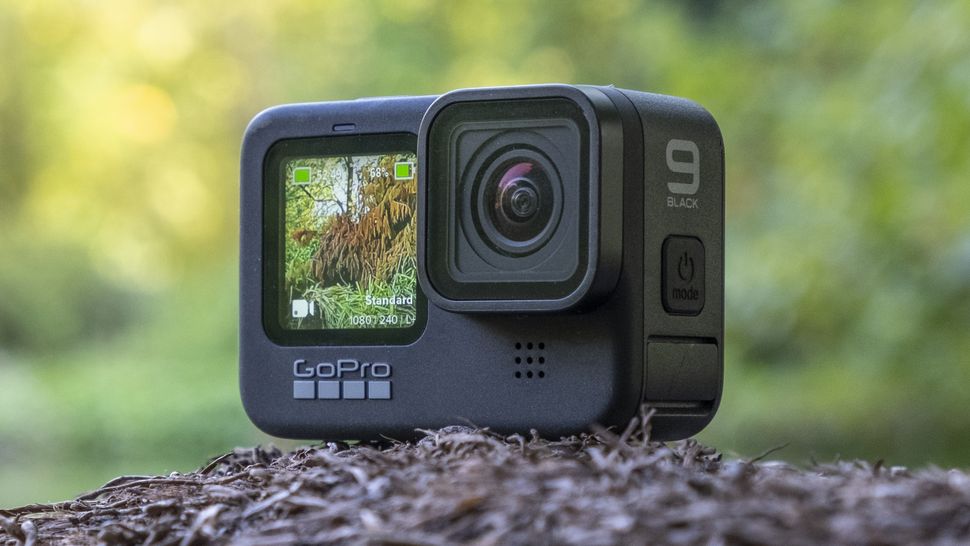 First, the good news. That 1.4-inch color display on the front is definitely a handy new addition for vlogging. It thankfully isn't touch-sensitive, otherwise your memory card would quickly fill up with lots of unhappy accidents, but it does provide a live video preview of your scene and some useful shooting info.
Being a square display, it certainly isn't quite in the same league as the side-hinged screens seen on cameras like the Sony ZV-1, or your smartphone's screen when mounted on gimbals like the DJI OM 4. While the latter give you a generous live preview of your whole shot, the Hero 9 Black's is more of a rough guide. It's enough to make sure your face is going to be in the frame, at least.
Previous GoPros have all had monochrome displays, which show shooting info like the remaining battery life, how much space is left on your memory card, and your current resolution/frame-rate. Not quite as exciting, but certainly more practical if you don't shoot a lot of videos to camera.
Naturally, the new color display comes with greater battery demands, which is partly why GoPro has inflated the Hero 9 Black's body size to squeeze in a new 1,720mAh battery. That battery's capacity is 40% bigger than the 1,220mAh ones its predecessors, which GoPro says leads to a 30% real-world improvement. As we'll see later in the 'performance' section, that's slightly optimistic according to our tests.
Still, these changes do come with downsides for anyone who's upgrading from an older GoPro. The Hero 9 Black isn't backwards compatible with older GoPro batteries, as they're a different size, so you can't use older ones as spares. And the new design, which boosts its size and weight by about 10%, will also be too big for your old cases or housings.
A GoPro redesign was inevitable at some point, so we can't be too critical about that, but one of our biggest disappointments with the Hero 9 Black is the responsiveness of its rear touchscreen. This 2.27-inch display is slightly bigger than the Hero 8 Black's, but it still has large, dated bezels and feels noticeably slower when responding to touches and swipes.
It's possible this is down to a processor bottleneck, given the GP1 chip now has to drive a larger rear screen and color front display simultaneously, while recording. Either way, GoPro has confirmed that a fix is coming in a November firmware update, but it's not ideal for a flagship model with this price tag.
Still, GoPro has at least reintroduced the removable lens cover, which it omitted from the Hero 8 Black. Whether you're replacing a cracked lens or adding an ND filter, this is a useful bonus, even if it can't exactly be considered a 'new' feature.
The reason GoPro has backtracked on its removal is because it's created a new Max Lens Mod, which screws onto the Hero 9 Black's lens mount to give you a super-wide field of view and even stronger electronic stabilization. We'll update this review when we've had the chance to take it for a spin.
Overall, the Hero 9 Black remains a handy, pocketable action camera that's waterproof down to ten meters and is now much better for vlogging. We'd just like to see some updates smooth out its slightly rough overheating and touchscreen edges.
Features
New 23.6MP sensor brings 5K/30p video and 20MP stills
This also helps boost its electronic image stabilization
New features trialled in GoPro Labs are built into the Hero 9 Black
GoPro's special sauce has long been the combination of its class-leading HyperSmooth stabilization, first seen on the Hero 7 Black, and clever software features like TimeWarp. While the Hero 9 Black improves on these features and broadens its versatility, it doesn't really introduce one killer reason to upgrade from the Hero 8 Black.
Not there aren't some significant changes under the hood. GoPro flagships have had 12MP sensors going all the way back to Hero 3 Black in 2012, but the Hero 9 Black takes the radical step of pushing this resolution up to 23.6MP with a new sensor. This allows it to shoot 5K/30p video and take 20MP stills, while also supporting the more powerful HyperSmooth Boost stabilization mode (which crops your footage by 25%) in all resolutions and frame-rates.
Buy the Go pro hero 9  Price Online from CELLULAR KENYA,Nairobi