Take control of your audio without stopping the fun with the black/orange Push Active True Wireless In-Ear Headphones from Skullcandy. Primarily designed for working out and sports, the Push Active utilize Skullcandy's Skull-IQ smart feature to keep your hands free, yet still allowing you full control by using your voice. Speak to adjust audio playback, incoming calls, and features on your smartphone. Rugged enough to handle extreme activity, the Push Active earphones feature IP55, sweat, water, and dust resistance, and have comfortable ear hangers to keep them in place. When not in use, they store conveniently in the included charging case, which helps to provide a total of up to 44 hours of use.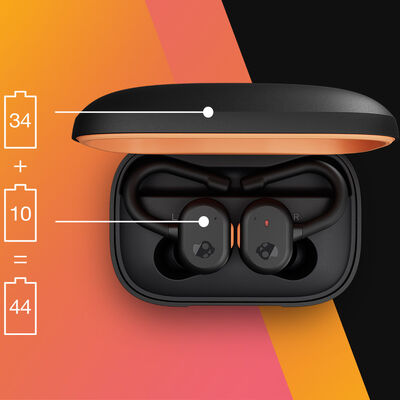 With up to 44 hours of total battery life, you don't have to worry about the earphones losing power or recharging the case every day. On a full charge, they give you up to 10 hours of playback, and another 34 hours are stored in the included charging case. Just pop the earbuds inside and close the lid to automatically begin recharging them.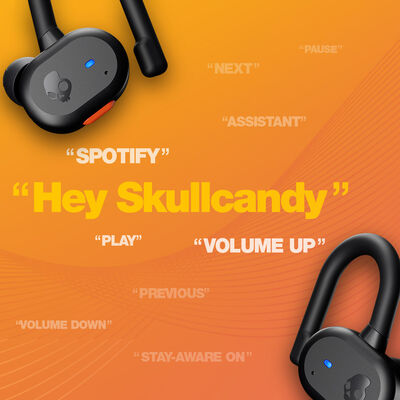 Hey Skullcandy is all you need to say to trigger the Skullcandy app on your paired mobile phone to control everything using the Skull-IQ smart feature. The commands you speak let you control aspects of music playback, such as turning on Spotify, adjusting volume, playing, pausing, or skipping tracks. You can also customize Push Active controls and activate or shut off other features such as Stay-Aware mode or sharing audio with a friend.
You can even use your voice to control your phone. Accept or reject incoming calls, have your digital assistant start a timer or send a text, or trigger your phone's camera to take a selfie. The Skullcandy Skull-IQ smart feature can be updated with new functions over time, pushed to the earphones via the Skullcandy mobile app.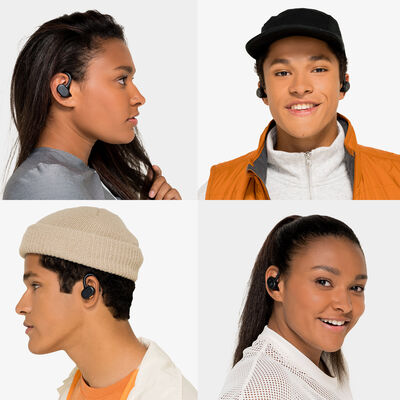 Usually in-ear earphones are made for a personal listening experience, but with the Push Active, you can use Skullcandy's audio-share feature to share your favorite music with a friend. For the feature to work, your friend also needs a Skull-IQ-compatible set of headphones, both earbuds need to be worn by each person, and both of you need to be within Bluetooth range. However, the feature works best when within 15′ of each other. You'll both hear the same music simultaneously from the person sharing, and each of you can independently adjust your own volume.
Buy The Skullcandy Push Active True Wireless in-ear Earbuds   
Best Price Online from 
CELLULAR KENYA,Nairobi
Dynamic 6mm drivers
Use the Tile app to ring your earbuds to find them if lost
Hear more of the outside world without taking out your earbuds with Stay-Aware mode
Integrated controls that are customizable
Bluetooth 5.2 connectivity