Design
Available in black, blue, or gray models, the somewhat cylindrical SRS-XB32 measures roughly 3.4 by 9.4 by 3.4 inches (HWD) and weighs about 2 pounds. It's a little bulky, but it shouldn't be too difficult to tote around from place to place.It means that it can withstand immersion in up to a meter of water, and thus can withstand splashes, rain, and being rinsed off. It's also completely protected from dust, so this is an ideal outdoor speaker.Buy The Sony SRS-XB32 EXTRA BASS Portable Bluetooth Speaker online from Best price online from CELLULAR KENYA,Nairobi
The LEDs start the second you power up the speaker and play music. There's no adjusting what they do—the patterns and colors stay more or less the same, with a border LED that changes colors, and occasional flashes from tiny strobes near the drivers beneath the grille. You can disable the feature by pressing the Battery/Light button on the covered back panel.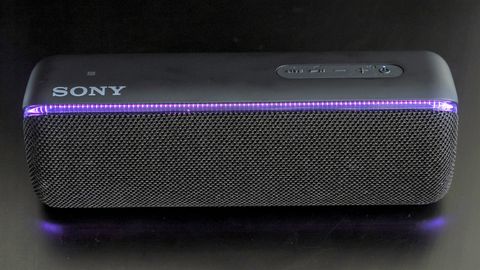 Across the top panel of the rubberized surface of the SRS-XB32, there are controls for play/pause/phone answer and end, plus/minus buttons for volume, and a power/pairing button. There's also a Live button—this is really the "bass boost" button, and we'll discuss it more in the next section. Rubberized feet on the bottom panel keep the speaker from scooting around due to bass vibrations.
Sony estimates the SRS-XB32 gets roughly 24 hours of battery life, but your results will vary with your volume levels, your LED usage, and your mix of streaming and wired audio playback. With Live mode and the lights on, that estimate drops to 14 hours.
Performance
On tracks with intense sub-bass content, like The Knife's "Silent Shout," the SRS-XB32 delivers some solid bass depth for its size, but at top volumes, the DSP (digital signal processing) kicks in and thins out the deep lows dramatically. In Live mode, the DSP has extra work to do on a track like this—at top volumes, it can sound as if it's on the verge of distortion but never quite gets there. Thankfully, there's also a strong high-mids presence, so things never sound muddy or overly bass-heavy, but this is definitely a sculpted sound signature.
Bill Callahan's "Drover," a track with far less deep bass in the mix, gives us a better sense of the SRS-XB32's general sound signature. The drums on this track get some solid thump, but most of the bass depth seems relegated to Callahan's baritone vocals, whether in Live mode or not. The guitar strums are crisp and bright, and generally speaking, this is a balanced sound. In Live mode, it sounds like there's some DSP at play that attempts to widen the stereo field a bit—it's not bad, but we prefer the unadulterated audio without the Live button pressed. Especially on this track, the bass presence isn't notably affected.
On Jay-Z and Kanye West's "No Church in the Wild," the kick drum loop receives enough high-mid presence to retain a relatively crisp punch, but the added bass depth seems to add more thump to the loop's sustain. The sub-bass synth hits that typically have some robust presence to them sound a bit subdued here—there's not really intense sub-bass depth through this modest-sized speaker. The vocals have solid clarity in both modes, but they sound a bit more crisp and front-and-center with Live mode disabled.